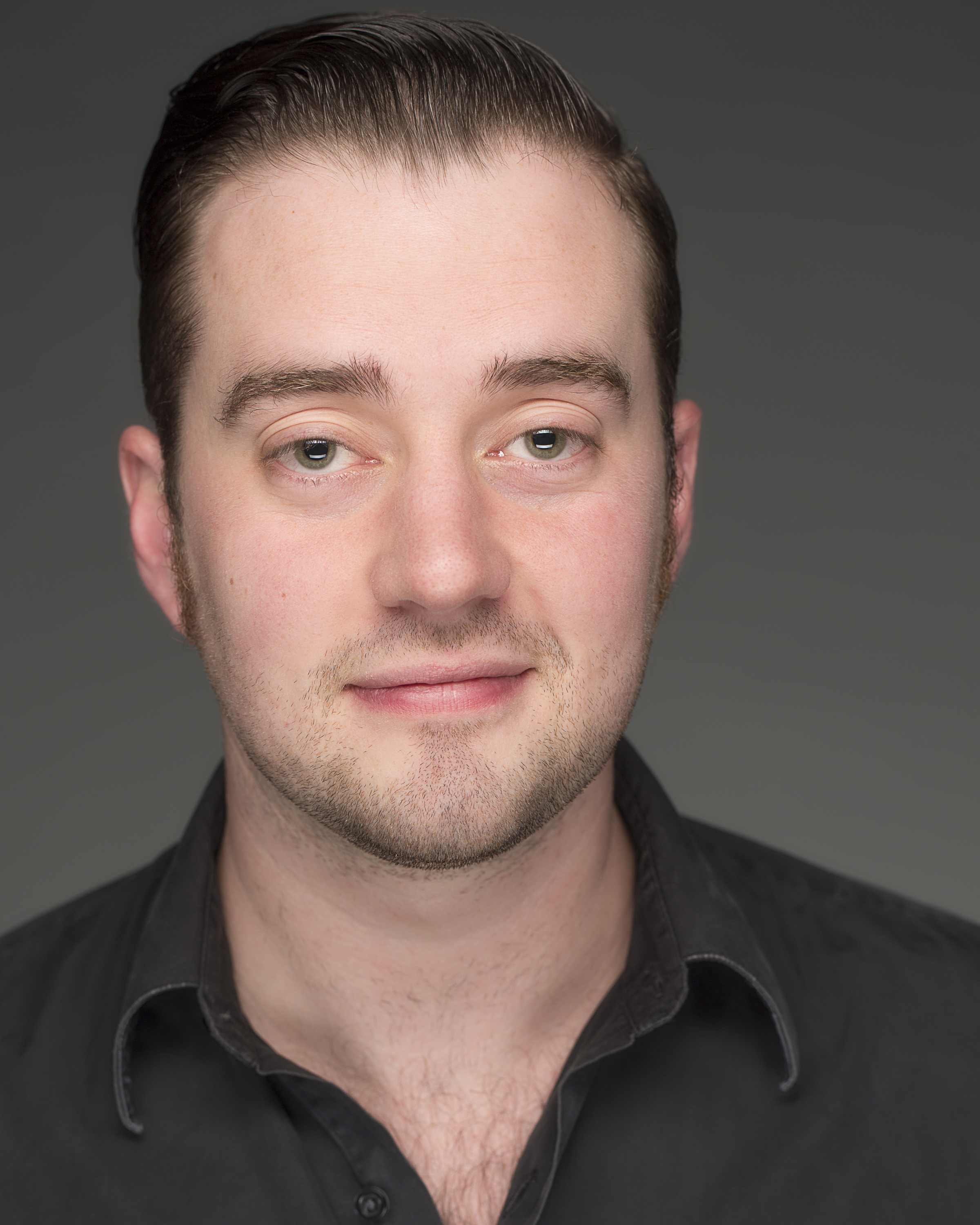 Adam elliott davis (Les mcCubbin)
is an award-winning stage and screen actor, and has appeared in many critically-acclaimed musical and non-musical plays, feature films, television series (NBC's "Grimm"), and more, across the United States. In addition to his work in front of a camera, he is also an award-winning producer (Here Comes the Ride), screenwriter, and film maker.
Adam teaches acting in Portland, OR, where he is based, with his wife and two children. He is grateful to friends and family for their ongoing love and support, and to God, for the immeasurable blessing of being able to tell real human stories that touch lives, heal wounds, and bring joy.
Joel Robert Walker (addison McCubbin)
is a native of Portland and received his training at Marymount Manhattan College in NYC. Joel has appeared in numerous television commercials as well as NBC's Grimm. Other film: Love Eclectic (Kurt), Fremont (Police Officer). Webseries: The Residuals (Richard), The Boys Who Brunch (Lincoln).
When he isn't performing, Joel can be found putting the finishing touches on the tiny home that he built (and will likely never feel is completely finished). He plans to live a true gypsy life as long as he's able - following the wind and the work. Upcoming projects: Trails (Broadway Rose), Holiday Inn, & Kiss Me Kate (5th Avenue Theatre).
Ted has amassed over 35 TV guest-star and recurring credits including Boardwalk Empire, ER, Gilmore Girls, Community, Lost, Grimm, Weeds, My Name Is Earl, Seinfeld, CSI, It's Always Sunny In Philadelphia. Ted has over 20 principal movie roles (Gone, Legally Blonde, Santa Pups, Blood Work...) and over 35 principal appearances in commercials (Yes, he was Abe Lincoln in the Mt. Dew ad and the Rozerem spots :-)
Locally, Ted has appeared in The Librarians, Leverage, Portlandia, Bucksville, The Kill Hole, Bucksville and Cell Count. Currently, Ted is working on a TV pilot out of Seattle called Automata.
On Stage, Ted has acted local in Orlando at Primary Stage and iin regional theatres (Ahmanson (LA), Williamstown Theatre, The McCarter, The Wilma, The Arden, Portland Stage, and Idaho Shakespeare). He has performed in 10 off Broadway plays and 10 plays in LA with the Actors Co-op. Ted has a BA in Theatre from Lewis and Clark College and an MFA in acting from Temple University.
Originally from South Africa, Reine now calls Portland, Oregon her home. She has played in various TV series such as Syfy's Dominion (2015), BBC's Jamillah and Aladdin (2016), and National Geographic's Origins (2017). She also stars in The Empty Man (2018) opposite James Badge Dale.
"I grew up in South Africa where we had lions in our backyards...," Reine teases, adding, "I wish." Unfortunately, by her own estimation, she did not have a lion as a pet. "Although I do love safaris!"
Reine started her acting career in a South African TV soap opera. From there she was offered outstanding local and international opportunities, eventually leading her to Portland. "Portland is such a wonderful place," she enthuses. "We've even started hiking like most people here! The surroundings are absolutely beautiful and the people very friendly. What a wonderful city to live in!"
We share Reine's enthusiasm for Portland! And we are also grateful for the many filmmaking opportunities here. We are so happy to have Reine on our team in telling this amazing story!
Born in Heidelberg, Germany, Sydney Winbush began her acting career nearly 2 years ago. With a theatrical background, she first took to the camera as Neema, in Father Africa (2016). Since then she has worked on numerous commercials, films and theatrical productions.
In addition to her acting opportunities, Sydney continues to pursue a Bachelors degree in Business with a focus on advertising and marketing. She hopes to have a hand in creating more diversity in advertising, and giving a face to those most forgotten.
Sydney is also known for her roles in Undeserved (2016), and Unwritten (2016).
Sydney's other passions include traveling, drawing, writing, and modeling. She hopes you all enjoy the magic of the journey and not just the destination.
Please join us in welcoming Sydney to the Losing Addison cast!
Cody is excited to work in this film alongside his older brother Austin, who portrays the "Adolescent" version of the same character. (The adult Addison is played by Joel Robert Walker.)
Cody started kindergarten this year and absolutely loves school! Outside of school, he loves to act and model. He recently booked a role on a Discovery Channel TV series!
Cody is also a master builder of Legos, loves to sail the Columbia River with his family, and enjoys dirt-biking with his father and brothers.
We're pleased to have Cody, along with his brother, on our team!
Jacquelynne faith (Maria sanchez)
Jacquelynne Faith found herself in the Portland acting world after 8 years in Orlando, FL, where she studied Health Sciences and Communication at University of Central Florida by day and the art of film acting by night. Bringing her Art's Sake Studio training with her, she's done more on-camera work in one year in Oregon than during her entire Florida career.
Jacquelynne is known for her work in films such as One More Time (2016), The Art of Acceptance (2014) and Zelda's Pepperonis (2018).
Outside of acting, she's a writer of articles, blogs, scripts, poems, and more, usually written from her bed beneath her sleeping cats. Jacquelynne is also a professional mermaid (which we don't have room to explain), model, dancer, and aspiring healer.
Being formerly pre-med with a deep interest in medicine, her dream is to play a doctor. Her role as an EMT in Losing Addison is one big step closer.
Kelly Sina (Young Sarah Jane MccuBBin)
Kelly Sina is a Portland area musical theater actress with a degree from Hope College in Holland, Michigan. This summer she played the title role in Gypsy at Broadway Rose, and is currently starring as Sally Bowles in Lakewood Theatre Company's Cabaret.
She is most recently from New York City where she traveled the country performing in various musicals. Kelly also satisfied the taste buds as a pastry chef in Manhattan (shout out to City Cakes!).
Kelly is passionate about her Savior, her husband, and her Minnesota Vikings. SKOL!
shelly lipkin (Detective robinson)
Shelly Lipkin is an actor, director, playwright. He was Co-Artistic Director of Cygnet Productions from 2000 to 2003 where he co-authored, produced and starred in Vitriol & Violets – Tales From The Algonquin Round Table which won the 2004 Oregon Book Award for Drama. His second play, Sylver Beaches, was also nominated for an Oregon Book Award.
At Artist Repertory Theatre in Portland he has starred in The Clean House, Blue/Orange and Gross Indecencies; at Profile Theatre he starred in Thief River (Drammy Award for ensemble acting), The Price and Sisters Rosensweig and starred in Twelfth Night with Tygres Heart Shakespeare Company.
Beyond Portland, he has also performed with Berkeley Repertory Theatre, Santa Fe Repertory Theatre, PCPA in Santa Maria, and other theatres across the country. Prior to moving to Lake Oswego he spent 20 years in Los Angeles as a television and film actor.
Most recently you might have seen Shelly in TNT's series Leverage, Extraordinary Measures starring Harrison Ford, Grimm for NBC, and Portlandia. Shelly is an Associate Director at Portland Actors Conservatory and also teaches film acting and screenwriting at The Art Institute of Portland and screenwriting at Mt. Hood Community College.
Jana Lee Hamblin, who plays "Lisa" the flirty bartender in Losing Addison, is an actor, teacher, and lover of life!
A Portland native, Jana Lee was last seen guest starring on Dad Crush with Rusty Joiner, Lucy Loken, and Laura Bilgerii, ZNation and Portlandia. Her recently completed work includes Seaside, directed by Sam Zalutsky, and Macon Blair's I Don't Feel at Home Anymore with Elijah Wood and Melanie Lynskey.
Jana likes to spend time romping around in the forest with her dogs and loves to cuddle up with her sweet cat on the sofa to watch a good movie or read a great play. Her favorite people to spend time with are her mom, incredible women who inspire her every day.
Jana's greatest love is helping others. She does service work in her community helping women in early recovery and teaches Meisner based acting, helping acting professionals hone their skills, as well as encourage growth in their personal lives.
Ithica Tell, who plays "Tina" in Losing Addison, is a critically acclaimed artist who has been featured in myriad performances in the Portland arts community over the last 18 years, from commercial work to film to stage. She was most recently seen onstage in Broadway Rose's presentation of Gypsy, alongside Kelly Sina, who plays "Young Sarah Jane McCubbin" in Losing Addison.
Her award-winning turn as "Judas" in Jesus Christ Superstar, in addition to parts ranging from the title role in Harlequino: On to Freedom, to the "Blue Fairy" in the award-winning presentation of Pinocchio by Tear of Joy Theatre, showcase Ithica's diversity on stage. She has don everything from puppetry to opera.
Classically trained at Southern Oregon University and the University of Hawaii–Hilo, Ithica has given many critically acclaimed Shakespearean performances in Portland, including as "Beatrice" in Willamette Shakespeare's Much Ado About Nothing, as well as "Witch #1" in Macbeth and the title role in Post 5 Theatre's Othello. Ithica has also appeared in many Joy of Clown shows, voiceovers, and touring puppet shows. She also fronts the band The Bindle Punks.
You may have also seen Ithica on television in Grimm, the Librarians, several Oregon Lottery commercials; on the Web in The Benefits of Gusbandry; and in Intel print advertising. She can also be heard as the voice of "Alice" in a Nike cartoon called the Sports Knowledge Underground, or SKU.
Ithica is delighted to be appearing in Losing Addison, and to have found the love of her life, Ethan.
Patricia "Trish" Hunter, who plays "Madeleine Sturdley" in Losing Addison, has an extensive acting résumé that spans the 25 years she spent in New York City in television, film, and commercial work. She has also been featured in print and radio advertising.
Since arriving in Portland, Trish has appeared on television's Grimm, Leverage, Portlandia, and The Librarians. On stage she has performed with Shaking-The-Tree, Profile Theatre, and JTC theater companies.
Trish's exhaustive regional theater work includes appearances across the country at McCarter, Princeton Rep, Theatre Virginia, Playwrights Horizons, New Dramatists, Ensemble Studio Theatre, Theatreworks-USA, Lincoln Center, Delaware Theatre Company, UBU Rep, Equity Library Theater, and 22 summer seasons as a resident Guest Artist and Teacher with the Dorset Theatre Festival.
She has been the recipient of "Best Performance by an Actress" awards for such roles as "Amanda Wingfield" in The Glass Menagerie, "Maxine Faulk" in Night of the Iguana, "La Marquis de Merteuil" in Les Liaisons Dangereuses, "Mary Todd Lincoln" in The Last of Mrs. Lincoln, "Mrs. Lovett" in Sweeney Todd, and "Petronella Van Daan" in The Diary of Anne Frank.
Holden Goyette (adolescent les)
Holden Goyette, who plays "Adolescent Les," is an 11 year old actor from Portland Oregon.
Holden began his acting career at the age of five. With over 40 acting credits in theater, television, and film, he has worked for Dreamworks and the Hallmark Channel, and also done commercial work for Intel, Lego, and Toys R Us, to name a few.
Holden has starred in many feature and short films as well, including the award-winning short Snake Bite and the feature film Zilla and Zoe (2018). Holden also took the leading role in Paste Magazine's video of the year winner Feel Like Running, directed by Jon Garcia.
Most recently, Holden accepted his first television role joining the cast of SyFy's original series Z Nation last season as the character "5K."
Interestingly, Losing Addison marks the second time Holden has played the younger version of a character portrayed by Adam Elliott Davis; in 2016's Out of the Darkness both actors played protagonist "Eli Isaacson."
Thomas is a recent graduate from the University of Washington, where he studied Drama Performance and Applied Physics.
He's always had a passion for film and storytelling. After graduating school he began working professionally as an actor from his home in the Seattle area, having recently appeared in productions at ACT Theatre and Centerstage Theatre.
When not acting, Thomas writes, directs, and collaborates with a group of close friends and collaborators he's known since childhood, to produce his own independent short films.
His moments of free time are filled with cooking, writing, video games, and films. Thomas believes simply sitting in a dark movie theater and watching a great story unfold on the screen is one of the most incredible experiences there is.
He is beyond excited to be a part of Losing Addison.
Daniel timothy treacy (Mr. Frazer)
Portland native Daniel Timothy Treacy became a traveling door-to-door salesman at the age of eighteen; he lived in Virginia, Colorado, Washington, and Arizona before making his way back to his hometown, where he now resides.
Daniel enjoys hiking, long walks on the beach, traveling, the color blue, and sandwiches. (But who doesn't?)
Upon his return to Portland he became aware that friends were doing creative things he had always wanted to try. So he jumped in head first and started learning improv, doing stand-up comedy, and acting.
He hasn't stopped since. In the intervening years, in addition to acting, he has become a producer, and content creator as well.
He is thrilled to be acting alongside many talented actors in Losing Addison, a project years in the making. He believes it is a true labor of love and will be "quite a film!"
Hallie Shepherd (Asst. D.A. Dana Jones)
Washington native Hallie Shepherd has been cast in the role of "Assistant District Attorney Dana Jones" in the upcoming feature, Losing Addison.

In addition to acting, Hallie is a writer and producer. Recent projects include the World War II drama The Last Rescue, the suspense/thriller Last Seen in Idaho, the satirical comedy Get Naked, and Cuba Gooding Jr.'s directorial debut Louisiana Caviar.

Hallie lives in the Seattle area and has always loved being active in outdoor sports and hiking. She also enjoys spending time in Portland. (But when the Portland Timbers play the Seattle Sounders, she's firmly in the Sounders' camp.)

In addition to writing screenplays, Hallie writes a blog and short stories on her website (HallieShepherd.com), and she is working on her first novel. She does her best writing at her desk on the third floor with a peek-a-boo view of the Puget Sound. It's also a picturesque place for having writer's block, because she can stare out the window.
Seattle actor Eric Colley has been cast in the role of "John McCubbin," father to young twins Lester and Addison, around whom Losing Addison revolves.

In addition to his acting skills, Eric is also a director and producer. His filmmaking career started in grade school with his parents' 8mm film camera, his younger brother, and all the neighborhood he could round up. "My childhood was kind of like the movie Super 8," he says. "Minus the big alien." [We're all thankful for that!]

Eric's recent film credits include the drama/thriller Prodigy, the western Hellslayer, the suspense/thriller Last Seen in Idaho, a World War II drama: The Last Rescue; and Cuba Gooding Jr.'s directorial debut film, Louisiana Caviar.

Eric loves summertime in the Pacific Northwest, but considers stormy nights with thunder and lightning to be a close second. He also enjoys hiking, sports, and going to the movies, especially now that the seats recline and have large armrests.